Professional and respectful.
Individually-tailored massages. Qualified Remedial Massage Therapist. A peaceful space designed to make you feel comfortable.
Centre State Drilling is a Central Victorian based water bore business located approximately 1 hour 30 minutes north of Melbourne in Castlemaine. We have been in continuous operation for over 25 years, operating 3 Drilling rigs and various ancillary pump related equipment.
Utilising water divining skills, we can offer a no water no charge service to our clients, virtually eliminating any risk associated with finding underground water.
Water bore drillers
Water divining
Drought proof
Fire prevention
Irrigation
Garden Watering
Waterboring
Bore water drillers
Bendigo
Ballarat
Kilmore
Yarra Valley
Central Highlands
Yea
Central Victoria
Groundwater
Drilling contractor Victoria
Water bore drillers VIC
Visit our website here: Central Victorian Water Boring Specialists 
Community Interlink is a consortium of 17 member hospitals and health services from across central and northern Victoria and southern New South Wales.
With the combined strength of its members, Community Interlink works to deliver quality in-home care to support seniors wanting to live independently at home.
View the Community Interlink website here »
A Home Care Package is an Australian Government funding subsidy that allows individuals to purchase services to enable them to live independently in their own home.
To receive a Home Care Package, you will likely need a free assessment by an Aged Care Assessment Team (NSW), or Aged Care Assessment Services (Victoria).
You may be eligible for a Home Care Package if you are:
an older person who needs coordinated services to help you to stay in your home,
a younger person with a disability in unique circumstances where your care needs are not met through other specialist services.
Once a Home Care Package has been allocated to you, you will receive a letter of notification detailing your package 'Reference Number' and 'Level' (value).
There are four Home Care Package levels:
Level 1 – basic care needs
Level 2 – low-level care needs
Level 3 – intermediate care needs
Level 4 – high-level care needs.
Your Reference Number will enable you to access services after it has been activated by an approved provider, such as Community Interlink.
More about Home Care Packages »
Committed to providing informed Personal Service with the lowest brokerage fees in the water industry
Allocation (temporary) transfers
Entitlement (permanent) transfers
Victoria, New South Wales & South Australia
Ground Water & Annual Use Limit
Visit the Water Trading Warehouse website
Macedon Ranges Property Services specialise in all  types of grass slashing & lawn mowing. Full grass cutting services available. 
Lawn mowing, grass cutting, paddock slashing.
web: www.macedonrangespropertyservices.com.au
280 Pipers Creek Rd, Kyneton 3444
Call Buddy on 0409 503 286
Bendigo Grid Connect is a locally owned and family operated company, servicing the Central Victorian area for over 15 years.
We supply and install split system air conditioners. Or we can install your air conditioner for you. Repairs and servicing of all brands of air conditioners.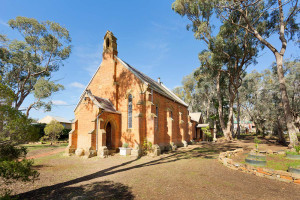 Historic church property, architect-designed in perfect sympathy with the original building, offering two spacious living areas, 3 -4 bedrooms, two bathrooms, workshop/studio, shedding and carport on a treed acre of land in picturesque Fryerstown.
The Church
All Saints Church in Fryerstown was established in 1861 and continued as a church until 1971, when it was sold for the first time and began to be used as a residence. In 1982, the church was renovated and extended according to a perfectly sympathetic design by renowned architect Allan Willingham. It is now a character-filled and spacious home.
The extension complements the church in style and offers:
spacious living area with wood burning stove, and split system air conditioner,
adjoining dining room,
well-appointed kitchen,
sunny breakfast room,
master bedroom with en-suite and walk-in robe,
light and airy study.
The old vestry is now a very large family bathroom and laundry with generous linen storage.
The original church creates a lavish second living area, presently used as a library and music room, warmed by an open fireplace. Upstairs are two additional bedrooms with built-in wardrobes.
Soaring ceilings throughout reflect the building's beginnings and create a truly unique property.
The house is surrounded by paved courtyards and patios, accessed by French doors from all downstairs rooms. There is a double carport, garden shed, and a powered workshop or studio. The property is set in an acre of bushland garden with large stands of eucalypts.
Located in the picturesque hamlet of historic Fryerstown on 4000sqm with town water and power, this is a rare opportunity to acquire a unique and historic property.
http://allsaintsfryerstown.net
In 2004 an idea was hatched that was to become the Castlemaine Hot Rod Centre. The fruits of our labour are now starting to reveal themselves and the excitement is building. Read more about our story so far…
We have been extremely lucky to be able to have sourced many professional business people and organizations who have been able to advise us on which direction our project would most benefit.
We are sure that this list will grow in the near future as the realization of our project is acknowledged.
We also acknowledge that some of these companies and organizations waived their initial fees to enable us gain more information and direction without the pressure of finances.
Maldon Holiday Cottages are located on a 40 ha property adjoining the Maldon Historic Reserve and are surrounded by forest and farms.
We opened at Easter 1990 and our cottages or cabins, whilst not luxurious, are clean and comfortable and offer good quality budget
priced accommodation.
These days many of our guests have stayed with us before (some so many times that we have lost count) or have been referred by someone else who has stayed with us.
The self-contained motel style cottages, furnished and fitted in country style include heaters, TV, DVD, bedding, linen, towels, crockery and such.
There is a wood-fired barbecue.
Use of a guest laundry and high chair are available at no charge.
phone: (03) 5475 2927
email: enquiries@maldonholidaycottages.com.au
web: www.maldonholidaycottages.com.au
Wellness is all about being healthy and happy, in body, mind and spirit. It is about getting the most from your life rather than just getting by. With our expertise in complementary, holistic health care, we invite you to our wellness centre. Our wide range of therapies treat the whole person, opening paths for your natural healing ability, realising the best version of yourself.
Healing Well is a multi discipline health centre based on the premise of the interconnectedness of all things, located in Castlemaine, Central Victoria.
Health is about how we live our lives, our relationship to others, our environment, and the natural world.